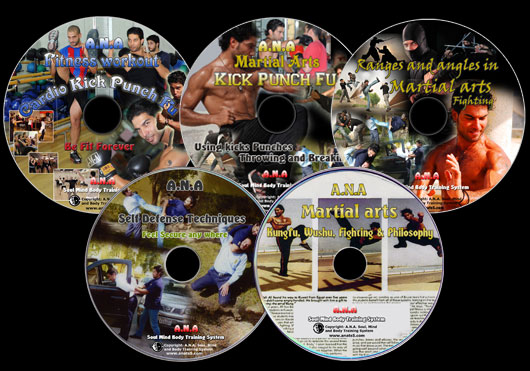 Please click on any DVD to enlarge

Available Books, CD's and DVD's

* A.N.A DVD's

A. Work out- Showing kick punch fu

B. ABS – Workout

C. Ranges and angles in martail arts fighting

D. Fight using Kick Punch fu, using Kicks Punches ,throwing and breaking

E. Cardio Cycling- indoor and outdoor.




* Books

* A.N.A products- Aerobic and Non Aerobic for losing fats and building muscles.


1. Kick Punch Fu – Teaching you how to control your attacks and defense in fighting- Mixed Martial Arts from Kung Fu, Taekwondo and Thai Boxing

2. Close range fighting- How to engage in fighting and defend yourself.

3. New Fitness methodology- different techniques for athletic-mantal arts training and schemes for fitness.

4. How to get a six-pack in 45 days- New exercises to create the right cut, a well-shaped body and a strong back.

5. Fitness Ideas Be Fit: Body, Mind, Control.